About the Entertainers Educational Program
For more than 10 years we have booked world-class magicians to conduct lectures/workshops, as demonstrated by some of the previous presenters shown above. The Entertainers Educational Program will allow us to continue to promote events such as these while expanding our offerings to other entertainment arts. Additionally, we will be offering more events focused on the business side such as online marketing, accounting, and financial planning.
Membership:
To attend our events you must be a member. You can join online now or at the door.
There are two membership options:

Standard - free
Gold - has an annual fee

To learn more about the membership options and to apply
Ticket Prices
Adult (18+): $20
Junior (7 to 17): $15
The Ticket Price can be paid at the door by credit card, PayPal, cash or check (made payable to That's Impossible, Inc.).
Occasionally we have "special" lectures and workshops. The prices of these events are indicated in their descriptions.
Lecture & Workshop Schedule
We typically have our lectures on Sunday afternoons. Additional lectures and workshops are currently being scheduled so please check back often.
Sunday, Feb 18th at 2:00 pm - Gregory Wilson Lecture
Sunday, Apr 8th at 2:00 pm - Chris Rawlins Lecture
I am working on confirming several other lectures / workshops so please check back soon.
Door open for all lectures 20 min before lecture time
Location:
8330 LBJ Freeway
Room B838
Dallas, TX 75243
(Located at 635 and 75 in Dallas)
* Note: This is a secure building with a security guard at the door to let you in. Please arrive on time as the security guard goes on rounds after our 2 pm start time and it could take longer for you to get in.
Upcoming Lecture Info
Gregory Wilson Lecture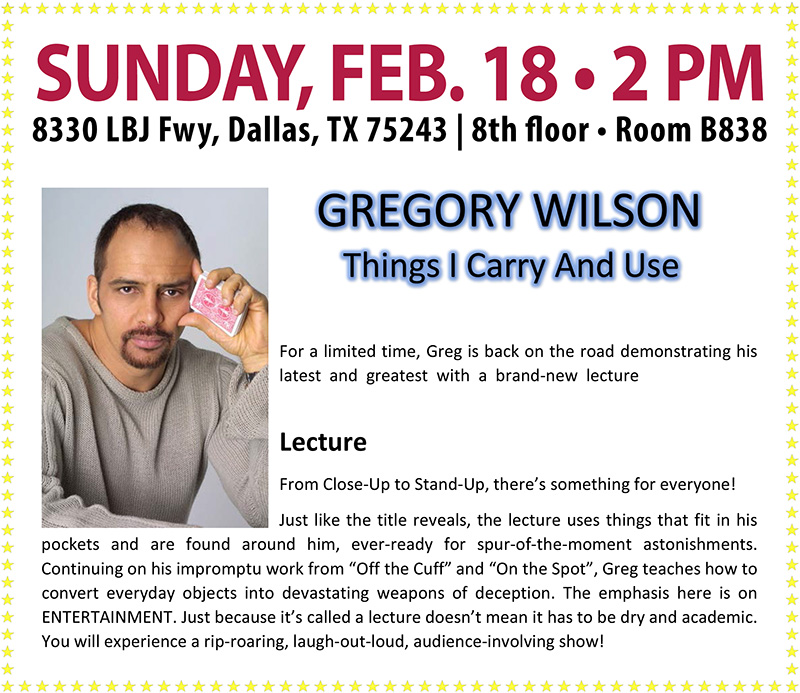 If you saw Greg lecture at TAOM in Frisco, don't worry, Gregory assures me that the majority of his lecture is different and full of cool effects you will use.
Chris Rawlins Lecture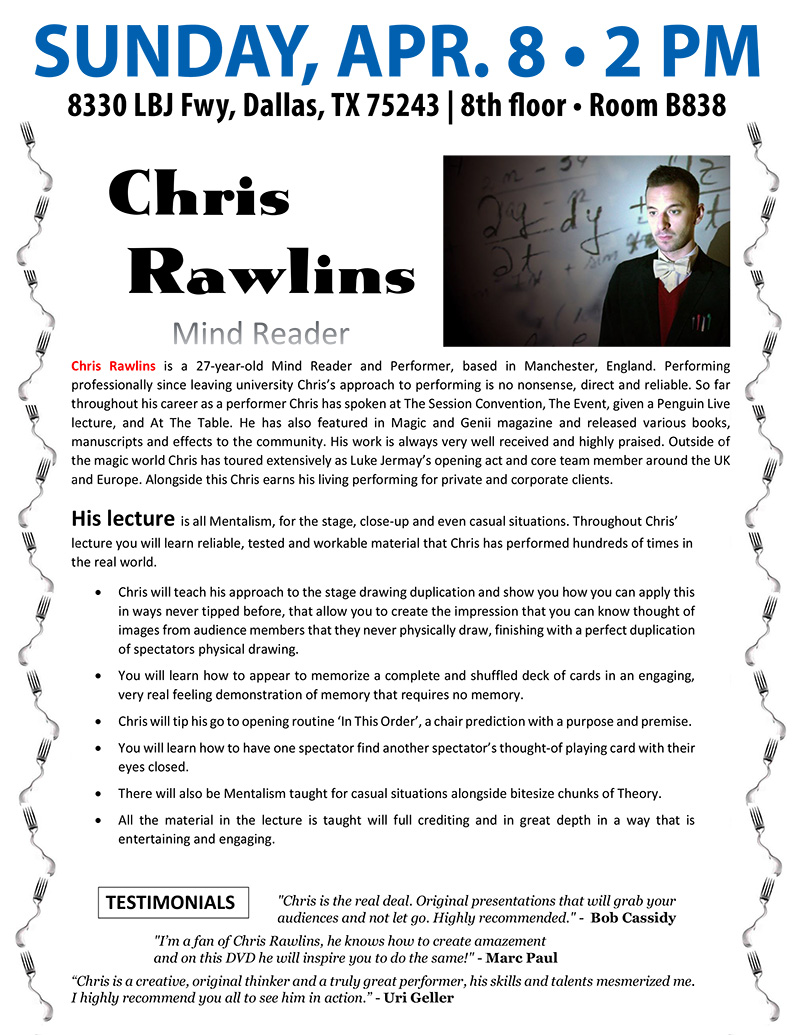 If you like mentalism, this is one lecture you don't want to miss.
I look forward to seeing you there!
Mark
Entertainers Educational Program
EEP Corporate Sponsorship
If you are interested in being a corporate sponsor of our EEP program or one of our events please contact Mark Jensen for more info.
Potential Lecturers
I am always looking for great lecture opportunities. If you are planning a lecture tour or will be in Dallas for business / personal reasons and are interested in discussing doing a lecture and/or workshop please contact Mark Jensen.